Before I get to the projects that kept me busy last week, I believe that I did promise a hilarious story about Frit. And I won't keep you waiting any longer…
Blame it on Izzy. Blame it on fast approaching birthdays. Blame it on whatever, but the fact of the matter is that Frit and I have been discussing a lot on the topic of "dating" lately. Mostly, about how we don't. Date that is. And you can blame that on, well…we can't figure that one out. I mean we're both pretty cute, successful, smart, spiritually faithful, and we are absolutely the funniest people we know. But we can't seem to find "any one" let alone the "right one" to date. We're guessing it's mostly due to the fact that we're very rarely in situations where we have the opportunity to meet single, LDS men who are slightly older, still normal, don't live in their mother's basement, and have legitimate jobs. So in an effort to, well, put more effort into this area of our lives, we've both signed up for eHarmony. Actually we both have profiles, but Frit's the only one who paid (I'm still not sure I can do it).
So Frit spent an hour answering the questions in the compatability test, paid her membership fees and we waited for the matches to begin rolling in. Soon enough, Match #1:
Merlin (interesting name, but alright, we'll go with it. We're not in any position to be picky over a name)
Orem, UT (same state, that's a plus)
Doesn't smoke. Doesn't drink. (good answers, those are definitely deal breakers)
Christian-LDS (super!)
Age 76 (wha-what? Excuse us?!)
We are DYING laughing at this point. It's even funnier if you know that Frit has her Masters in Social Work with a specialty in geriatrics. She loves old people like some people love chocolate. If she could live in an assisted living facility, she would. Even at her ripe old age of 36.
Between belly-laughs we figured out that when she was filling out her profile, she accidentally selected her birth year as 1927 instead of 1972. And the only way to fix it was to email the Help Desk at eHarmony, explain what she did, and have them fix it. Within a day it was fixed, but she still wasn't getting any matches, which just seemed crazy! I mean are there no 30-40-year-old LDS men in the western United States on eHarmony? There had to be at least one! So again, after a little investigating, she realized that when she had made her original mistake of listing herself as 82 years old, eHarmony had automatically calculated that she was currently looking for men between the ages of 72 and 102! Baaaaaaah! She quickly fixed the age range and then, finally, the matches began rollin' in.
The sad thing was that for the first few days Merlin was definitely the best catch of them all. His photo was darling and his answers to the profile questions were by far the sweetest, most sincere, just-what-you're-looking-for in a man. She's since gotten a few more matches in her actual age range that look nice, thankfully. So we'll see how this pans out. It's all very weird, we both admit, but we figure, at this point, we've got to do all that lies in our power and let God do the rest. If that means signing up for eHarmony, well then, we'll do it. But I couldn't not share that story here!
And now, onto the projects that kept me busy last week…
Sewing Izzy's Blessing Dress (In the LDS faith children aren't baptized until they turn 8, but new babies are given a special blessing by their fathers in Sunday services before the congregation.)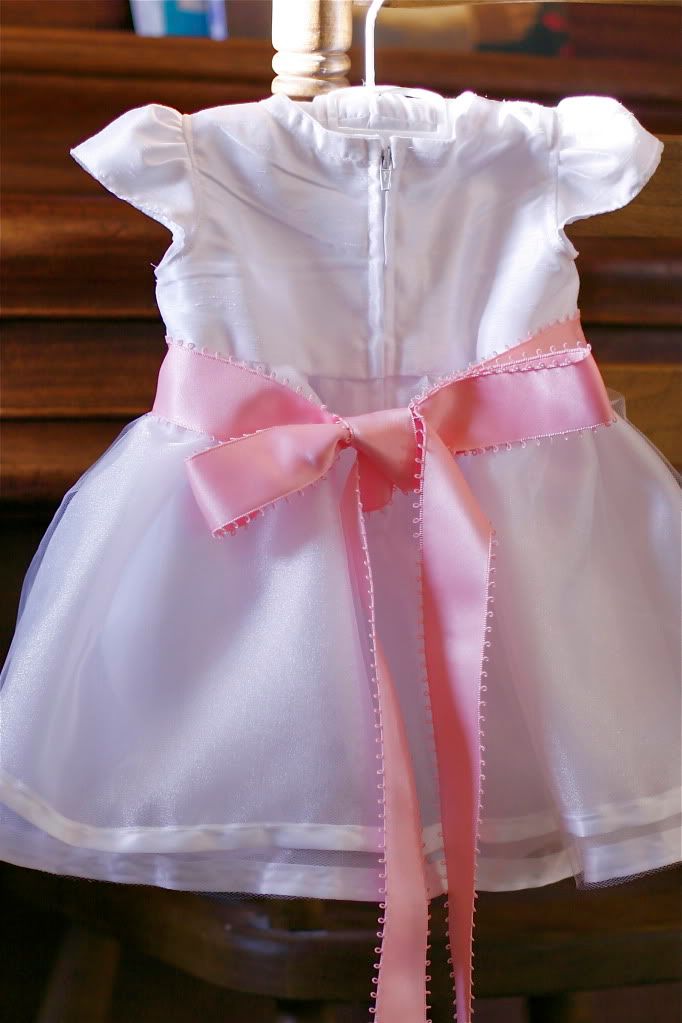 I firmly believe that bloomers are an essential element of every baby dress.
I also spent some time making a gift for a baby shower I attended on Saturday:
I sewed a small quilt with a patchwork of flannel on one side and plush minky on the other as well as a few embellished burp cloths.
It was quite the week and I was happy as a clam working away at my sewing machine. This week, I'll be busy doing a bit of consulting for a company that needs some PR and marketing help as well as working on my own "stuff." Can't wait to share more (soon)!
Hope you're having a lovely Monday.
p.s. just a reminder: don't leave any stupid comments about being single, dating, what our "problem is," etc. You know how much I hate stupid comments regarding this subject.